News
Take a free 'Shuttle to the Fair' as Hollycombe lights up for the autumn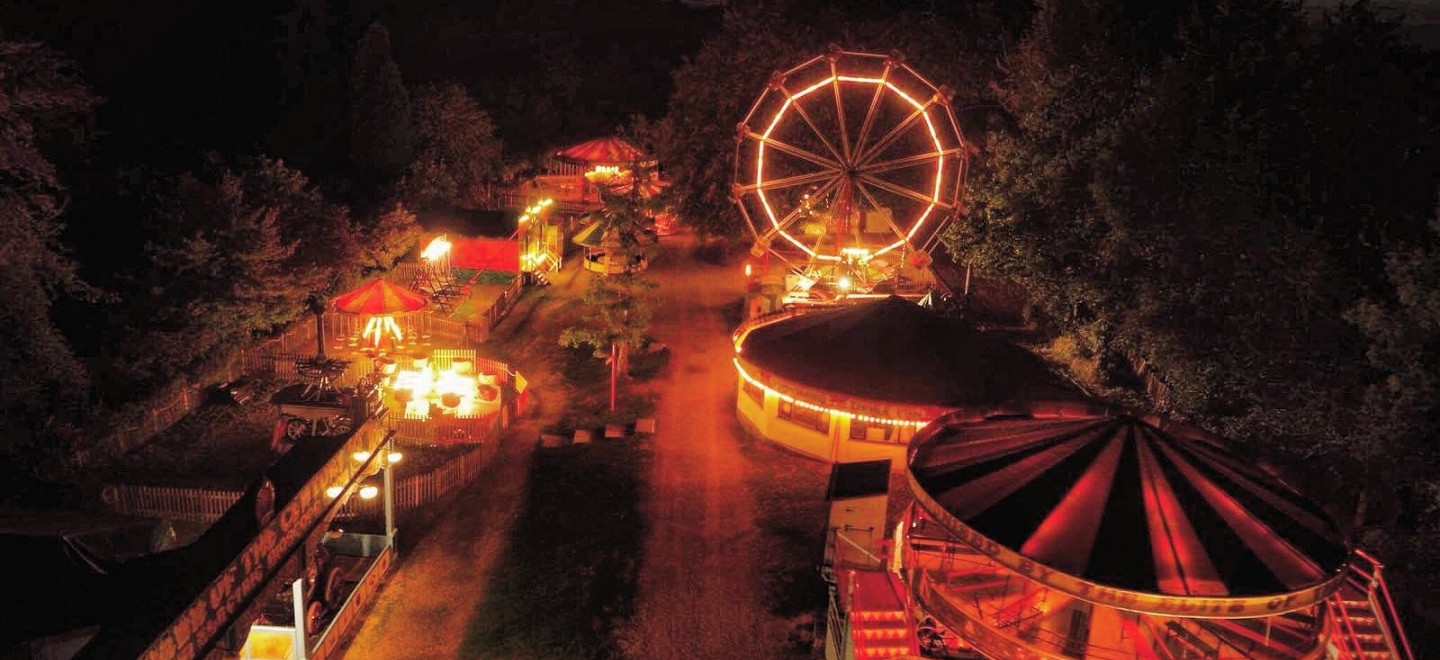 Enjoy a trip down memory lane with the sights, sounds, smell and atmosphere of a vintage Edwardian Fairground at night, as the Hollycombe Working Steam Museum on the Sussex / Hampshire border stages its popular 'Fairground at Night' evening openings. And over the next two Saturdays (Sat 13 and Sat 20 October) why not leave your car behind and catch the free Shuttle Minibus service being offered from Liphook to Hollycombe?
Operated by Wheeldrive, in conjunction with the East Hampshire Community Rail Partnership and Hollycombe, the service will operate from early evening until Hollycombe closes. Picking up from Liphook Station and stopping at the Sainsbury's Bus Stop, Midhurst Road, the service will carry passengers to Hollycombe in a wheelchair friendly and accessible 8-seater minibus. First pick-up of the evening will be 18.15 from Liphook Station, with regular trips made to and from Hollycombe throughout the night, the last minibus scheduled to leave Hollycombe for Liphook Station at 21.50.
Full timetable for free Shuttle minibus service reads:
From Liphook railway station: 1815; 1840; 1915; 1940; 2015; 2040; 2115; 2140
(then picking up shortly thereafter at Sainsbury's bus stop, Midhurst Road)
From Hollycombe Steam in the Country: 1830; 1850; 1930; 1950; 2030; 2050; 2130; 2150
Should passenger numbers be high, extra services will run in either direction to accommodate demand.
Hollycombe Steam in the Country offers visitors a nostalgic look at how the Victorians and Edwardians used steam as an instrument of work and play, and features a number of popular fairground sideshows of the period. With steam-driven rides such as the Razzle Dazzle (considered to be the world's first 'white knuckle ride'); the Gallopers and the magnificent Big Wheel offering evening views over the twinkling lights of the South Downs, a trip to Hollycombe offers visitors both nostalgia and a frisson of excitement! After enjoying the rides visitors can sit back and relax in the Bioscope – a pre-cursor to the modern cinema – typical of the travelling shows which first brought film to the public, or reflect on themselves with a walk through an original Hall of Mirrors. And Hollycombe's Haunted House – the oldest in the world – will be open for evening visits following extensive restoration in 2017. 'Everyone loves Fairground at Night' said Hollycombe Trustee Brian Gooding. 'The atmosphere created by the lights, sounds and steam is unique to Hollycombe – our rides are operated by volunteers and these evenings always prove most popular. Warming refreshments are available too!'
Remaining Fairground at Night evenings take place on Sat 13th October, and then again on Sat 20th October, this time with a Halloween theme, when the Quarry Railway is also planned to be open. Hollycombe is also open on Sunday 14 October with rides from 12.30pm until 5pm.
Entrance to Fairground at Night / Halloween Fairground at Night is just £16 adults; £14 seniors or £12 child, with family saver tickets available, offering unlimited rides on the Fairground. Tickets entitle complimentary return visits to Hollycombe on most open days during a calendar year. For more info, please call 01428 724900, e-mail: info@hollycombe.co.uk or visit www.hollycombe.co.uk